This post may contain affiliate links. Read the full disclosure here.
One big obstacle and problem in the world of blogging is remembering to market your posts on social media. Sure, when you first click "publish" you are excited to share it to all of your accounts and lists. But, then you're probably on to the next…and leaving money on the table! What if you could automate your blog posts?
The thing is, that one blog post could still refer traffic to your blog over and over, for quite a long time…if only you could remember to continue drip marketing it over a length of time to your social media accounts.
But, truth is…ain't nobody got time for that! So, what do you do?
Enter Missinglettr
Missinglettr is a social marketing automation tool that automates your blog marketing to your social media accounts, making your life a little bit easier. You set it up once, and every time you post a new blog post, Missinglettr goes to work for you!
Missinglettr creates strategic, automatic social media campaigns that drive traffic for an entire year. Yes, over the course of 365 days, Missinglettr will post to your accounts (not every day, but on a drip campaign schedule. Don't worry, you won't spam up your followers continually here!).
This works with Facebook, Twitter, Linkedin, Google+ (and Pinterest coming soon). I personally use it to post to my Facebook business page and my Twitter account.
How Missinglettr Works
Here's a full explanation of the process here:

By the way, Missinglettr is running a very special promotion now through the 27th of July 2017, so don't miss it. Click here to get your 6 months for the price of 1!
Okay, so you click publish on a blog post. Minutes later, Missinglettr will email you letting you know that your drip campaign is ready for your review. Yes, you get to review it BEFORE it starts sending.

So you click into the email to your dashboard, and go in to review your campaign.
Once in, Missinglettr will present you with some hashtag suggestions for your content based on your post. You can use the suggested ones or delete and add your own.
Then you go to the screen where you choose the content to be drip fed. The AWESOME thing about Missinglettr is that you don't have to write a thing. It AUTOMATICALLY pulls and creates images, quotes and text based upon your blog post!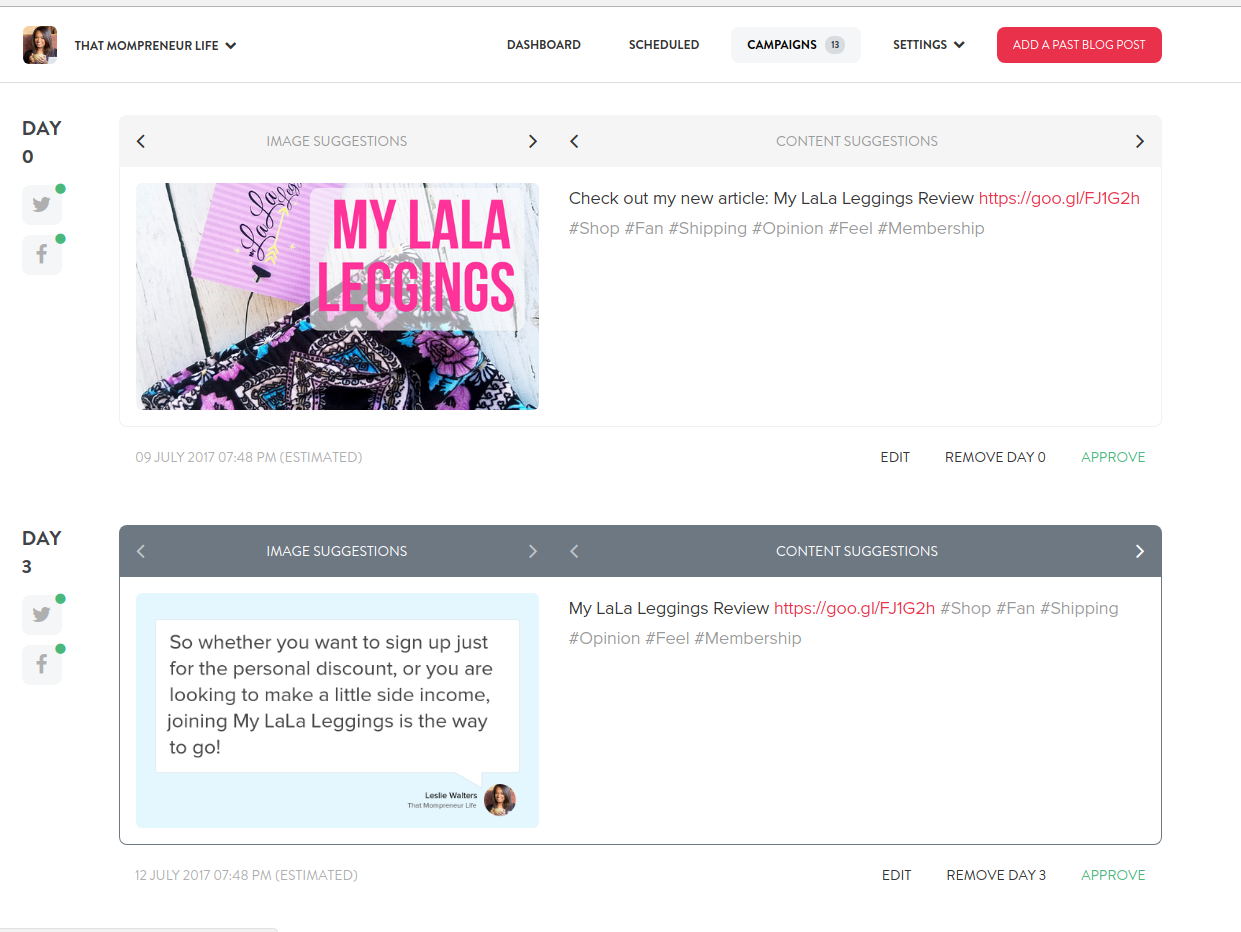 You get to scroll through and use the images/text that you feel fit best. Plus, each piece of content is branded with YOUR profile image and business name. Automatic branding!
They create 9 posts like this, to go out on day 0, 3, 7, 14, 30, 90, 180, 270 and 365 from when you start the campaign. You individually tweak and then approve each piece of content.
Then you click "approve" and it starts running for you automatically!
The Benefits of Missinglettr
So, I'm sure you can see just how easy and useful this is for your marketing! Once set up, it takes literally five minutes to go through and approve each campaign. And…automation! Honestly, if it weren't for automation, I would probably not even use my Twitter or Facebook business page that often! But, with Missinglettr, it's handled!
It automatically pulls each blog post.
It automatically posts curated images and quotes to your social media.
It automatically engages your social media followers over the next 365 days.
I took it for a test drive and tried it out, and I'm hooked. I like the ease and the usefulness of it. Plus, I can't wait to see what their coming Pinterest portion will be like.
Their paid monthly plan starts as low as $15/month, but you can start off FREE today and take it for test drive yourself first!
Click here to check out Missinglettr.
News Flash! Missinglettr is running a VERY special deal where you can get 6 months for the price of 1! Yes! But hurry, this deal will end July 25th, 2017! Go here to activate this exclusive deal!
To your success,