This post may contain affiliate links. Read the full disclosure here.
Welcome to affiliate marketing for beginners!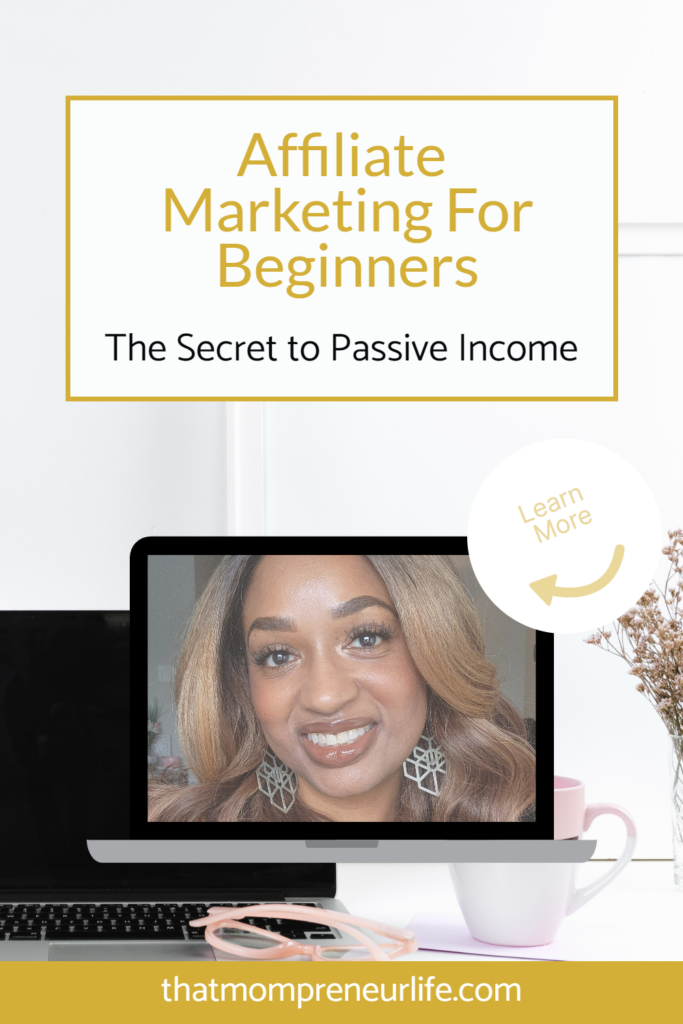 Contrary to the title of this post…there is no "secret" to success in this making money online thing. I'm not going to gatekeep – the way is simple, straightforward, and requires some education.
No secrets kept here.
I used to search and search everywhere on the internet looking for the "secret" that would dump loads of money into my bank account instantly. I thought the reason it hadn't happened yet was because I didn't "have what it takes".
I was diligently searching from this blog to that social media post to this video over here — roaming all around the internet, trying to figure out this "passive online income" thing.
But I was SICK and TIRED of it –
Sick of not knowing what would turn out to be a "scam", what would work, what wouldn't, etc. —
ALL while juggling motherhood, working full-time, trying to hold it down, etc.
Turns out that was a big fat lie.
I "had what it takes" all along. And so do you.
You don't have to be "special" and ANYONE with some tenacity and elbow grease can do this.
There is no secret to success, but there is one special ingredient in the sauce which makes this all come together.
What is it?
The Roadmap
My friends, for beginners like you to succeed in affiliate marketing, you can't just go out there willynilly. You need the roadmap…a roadmap to generating passive income, even with no prior experience.
And I'm about to give it to you.
The tell-all step-by-step guide here will reveal the FULL scoop on proven methods and tools that successful online affiliate marketers use to create a reliable income stream — all while enjoying the freedom and flexibility to work on their own terms.
It's exactly the first step you need to take towards your online marketing success!
3 Steps To Getting Started In Affiliate Marketing
Step 1: Understanding Affiliate Marketing
Affiliate marketing for beginners boils down to these three steps at it's super basic level:
Building Your Audience
Selling your products or services to that audience OR
Selling other people's products or services to that audience and making a commission or earning a reward.
We are going to focus on #3 because that's where affiliate marketing comes into play.
Affiliate marketing is a partnership between you (the affiliate) and a company or product owner. You promote their products or services on your platforms (blog, social media, etc.) and provide your audience unique affiliate links that they click on.
When someone makes a purchase through your link, you earn a cash commission.
I'm also going to mention that affiliate marketing has a little cousin called "referral marketing". The premise is the same: you direct an audience to your unique referral link associated with a company or product that you use. However, if someone orders through your link, instead of receiving a cash commission, you get credits, points or discounts towards that product.
That's still a good thing!!!
I started my primary YouTube channel back in 2010, and for years I would make money and rewards by posting video reviews of products and providing my referral link.
I earned my children tons of free name brand clothes, (this article shows what I earned up until a certain point in 2017, but I earned way more) through Kidbox, Kidpik, Rockets of Awesome, etc. I also earned free clothes for myself too! I used this method to get products and subscription services for free or discounted through companies like Stitch Fix, Dashing Diva, LeTote and Haverdash, and many others.
I literally got hundreds if not thousands of dollars of product for free and commissions over the years! This was my start in affiliate marketing and referral marketing.
What made it passive income?
The videos I posted and blog posts I wrote did the marketing for me, over and over again. I created the content, created the sales funnel the content directed to, and it all did the selling for me.
Moral of the story: Affiliate Marketing + Evergreen online content = Passive Income!
Step 2: Build Your Audience
In order for this magic to work, you're going to build an audience on an online platform.
This can be a blog, a website, a YouTube channel, or any social media profile.
Then, you are going to create high-quality content that speaks to that audience.
WARNING: This is where most people fail. They GIVE UP!
Building an audience takes TIME and TENACITY. It won't happen overnight. But if you are consistent, it WILL happen.
Your content is your secret weapon in affiliate marketing. Create informative, engaging, and valuable content that addresses your audience's pain points and offers solutions.
High-quality content builds trust and encourages visitors to click your affiliate links.
Then, promoting affiliate products involves strategically placing your affiliate links within your content. You can use product reviews, comparison articles, and tutorials to introduce these products to your audience. Be transparent about your affiliate partnerships to build trust.
Step 3: Build an Email List
An email list is a powerful asset for affiliate marketing!!
This is something I missed early on in the game, but your email list will be your best money-making friend!!
DO NOT skip over this part and just try to get people to buy through your social media. Get them to join your email list!
Some people will only buy after being exposed to something at least seven or more times! You have to stay IN FRONT of the people in your audience who are potential buyers.
The easiest and fastest way to do that is to get into their email inbox!
Create lead magnets, such as ebooks or newsletters, to entice visitors to subscribe.
Once they have subscribed, use email marketing to nurture your audience, share valuable content, and get them to buy. The best part? You can promote additional things to them down the line (maybe even your own products)!
Conclusion
Congratulations, Mompreneurs! You now hold the secret to generating passive income through affiliate marketing for beginners. Remember, success in affiliate marketing requires dedication, continuous learning, and a genuine desire to help your audience.
As you embark on this exciting journey, always put your audience first, create valuable content, and stay committed. Over time, you'll see your efforts turn into a reliable source of passive income that can support you and your family while giving you the freedom and flexibility you've always dreamed of.
So, go out there, follow these steps, and start building your path to financial freedom through affiliate marketing. Your future as a successful affiliate marketer begins today!
And don't forget to grab the FULL Roadmap here for the step-by-step guide and training to build a successful affiliate marketing business online.