This post may contain affiliate links. Read the full disclosure here.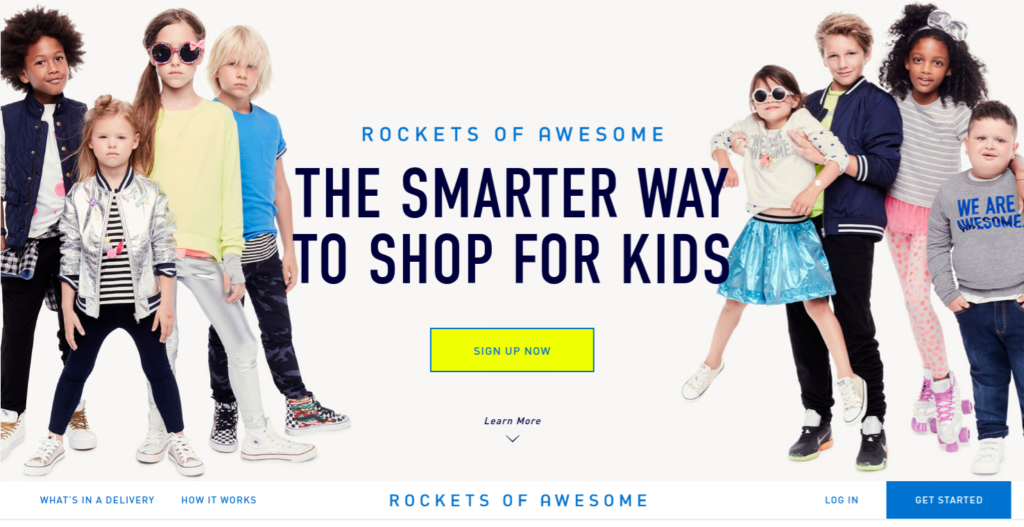 It's time, boys and girls, for my Rockets of Awesome review (yay!). I happened to be scrolling through Facebook and saw an ad for Rockets of Awesome. I'm pretty sure I've seen other subscription shopping boxes for kids, but for whatever reason, this one caught my eye.
Maybe it was the fact that there are NO MONTHLY FEES. Maybe it's the fact that I am the owner of a subscription box also, so new sub boxes always catch my eye. In any case, I signed up on the spot and waited patiently for the boxes to arrive so that I could share all the details with you all. So, here's my Rockets of Awesome review.
The Skinny Low Down on Rockets of Awesome
It is not enjoyable taking kids to the store to shop, but you need to so they can try stuff on. Well, Rockets of Awesome helps parents out with the hassle by:
Mailing 8-12 clothing items right to your door for your child to try on.
They mail 4 times per year, at the beginning of each season.
There are no monthly fees, or fees at all.
Free shipping both ways.
You pay for what you want to keep and mail back what you don't.
No obligation to buy.
Clothing items are about $40 and under.
Sizes 2-14
They choose clothing based on a style quiz, and you can offer feedback about what you liked and didn't like.
Click here to join Rockets of Awesome, and get one free item of your choice with your purchase
I have three kids, but I got two boxes just to try it out. I got one for my four year old daughter, and one that my two sons can share since they share a lot of clothing. So my girl box was a size 4 (really a size 4/5 in Rockets of Awesome sizing) and my boy box was a size 14.
The Unboxing
I made a video of the clothing that we received. It was super easy to unpack the box (which arrived in a over a week), have my kids try stuff on really quick, and then make a decision on what to keep. Easy peasy to do at home!
<
Here is a quick screenshot of my back office to show you each piece that we actually got, plus prices.
Ava's Box
First Row: Coral Burst Baseball Top – $22
Eclipse Comfy Crew – $26
Spectrum Blue Comfy Hoodie – $28
Spectrum Blue Comfy Jogger – $24
Glitter Skirt – $24
Little Lux Dot Tee – $28
Second Row: Metallic Skirt – $24
Pink Pom Pom Sweater – $32
Black Sparkle Dot Legging – $16
Sparkle Star Cardigan – $26
Star Headband – $15
Fairy Pink Tulle Party Dress – $36
Collin's Box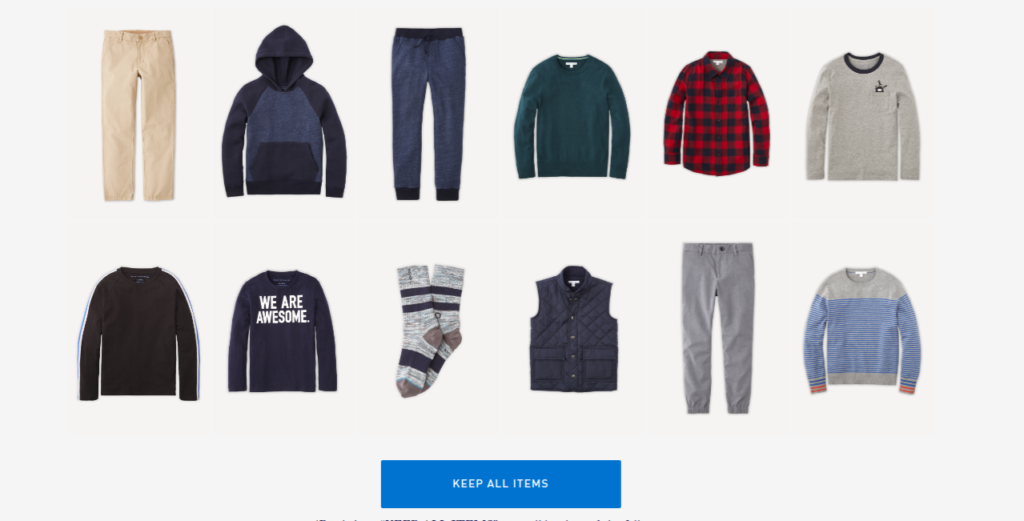 First Row: Khaki Chino Pant – $26
Heather Midnight Colorblock Hoodie – $28
Heather Midnight Colorblock Knit Jogger – $24
Deep Pacific Essential Sweater – $26
Flame Red Flannel Button Down – $28
Heather Grey Longsleeved Ninja Pocket Tee – $22
Second Row: Black longsleeved Racer Stripe Tee – $20
Navy We Are Awesome Longsleeved Tee – $20
Aqua Marl Socks – $8
Navy Preppy Vest – $36
Heather Grey Smarty Pant – $34
Heather Grey Striped Sweater – $28
If you're a mom looking for a simplified way to shop for your kids, this is it! Sign up, they send the box, and you're on your way! Pay for what you want, send back what you don't. Free shipping both ways. No brainer.