This post may contain affiliate links. Read the full disclosure here.
My LaLa Leggings Review
Leggings have become all the rage thanks to the explosion of companies like LulaRoe, among others. I admit that I have never tried LLR leggings (so I can't yet compare), but I very much am a legging enthusiast and LOVE to wear leggings!
So when I heard about the new company My LaLa Leggings, and saw all of the great prints that they have to offer, I immediately was interested in not just buying, but joining their affiliate program too. So if you are interested in purchasing or joining My LaLa Leggings, here's my LaLa Leggings review!
The Leggings Themselves
So, I'm not a huge fan of really cheesy or crazy print on leggings. I'm also not a real big fan of those shiny, shimmery looking leggings. You know, the ones that have a galatic look or whatever with lots of spandex. Not a fan. Spandex was in in the '90's, but not so much now.
I actually like my leggings to, of course, have stretch, but to also have that buttery, softer quality. The kind that is versatile for all year-round. And, I also want the prints to be fun and trendy, but not too "out-there".
I feel like My LaLa Leggings fit the bill!
For my first order, (and oh yes, there will be a second to come soon!), I chose two prints to get me started: the Diamond Blitz and the PurpleRain. I really thought they were cute, and loved the color and patterns.
Honestly, they add new leggings styles all the time on this site, and every time I see new ones, I want to squeal! The majority of them are SO CUTE (although there ARE a few that I could do without, lol)!!!
The price is around $18 per pair.
The leggings come in several sizes, so there are choices for everybody, even kids!
OS – sizes 2-14
Curvy – sizes 14-20
Extra Curvy – sizes 20-26
There are also capris, shorts and tees, but for this review I am only focusing on the full-length leggings because that's what I purchased. I am in the OS category, so that's the size that I got.
I placed my order on June 21st, 2017. It shipped on the 22nd from California by USPS First Class mail, and was at my door on the 24th (in Oklahoma). Lightning fast shipping!
Oh, and did I mention that shipping is free???
Here is what I got in the package: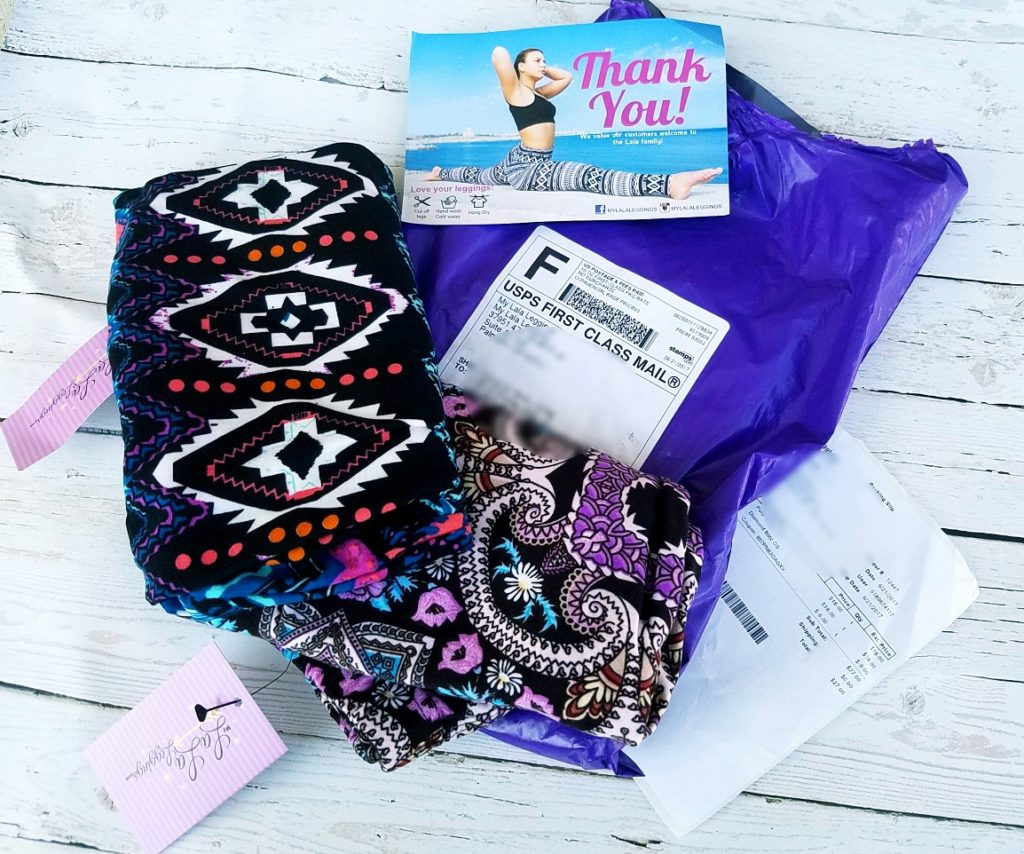 An up-close look at the leggings I got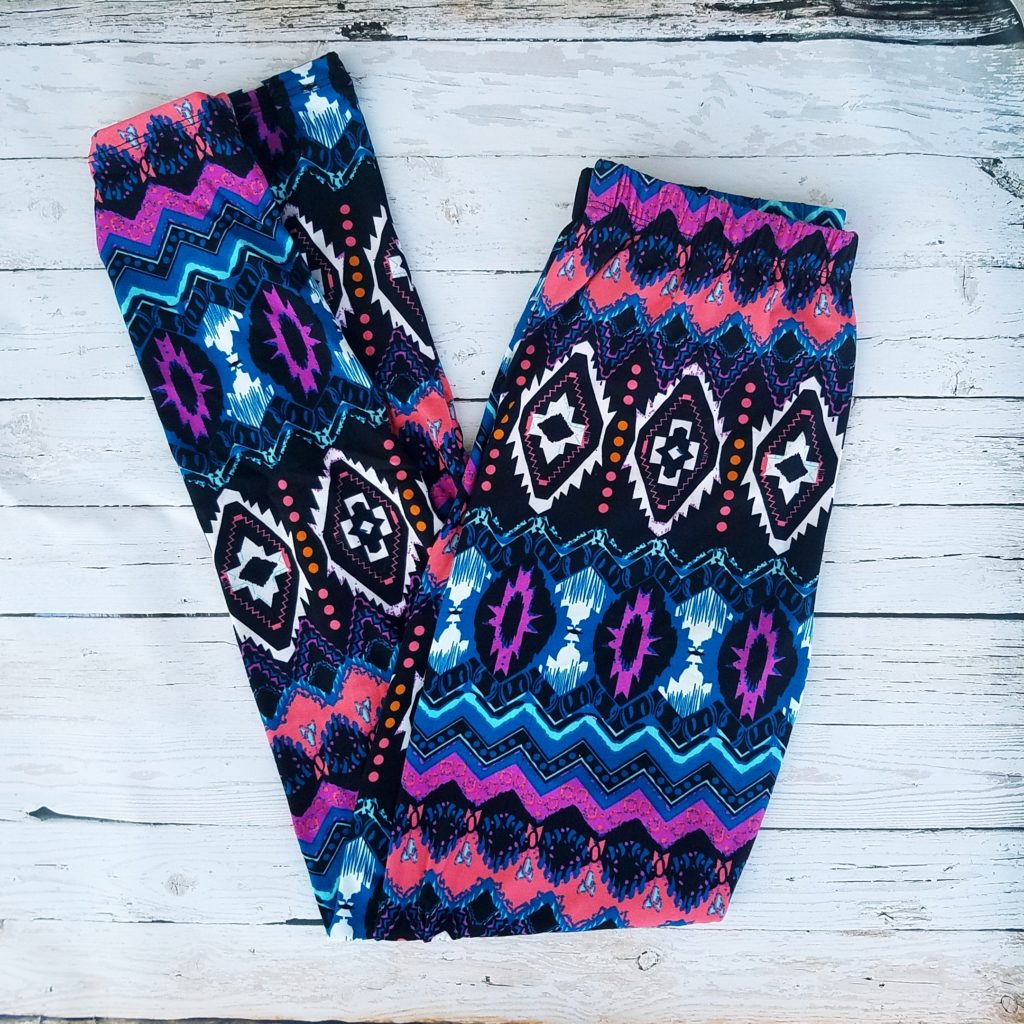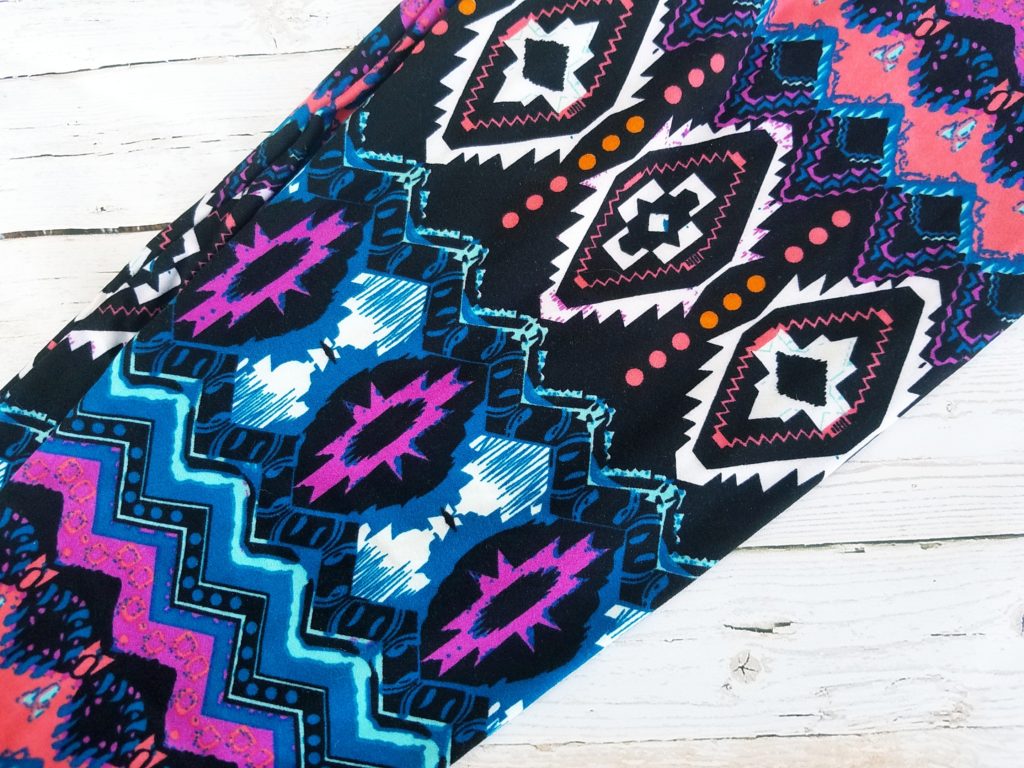 They are made of 92% polyester and 8% spandex. The feel was soft and there were no defects in the make or the fabric. I feel like they were well-constructed and will last the test of time.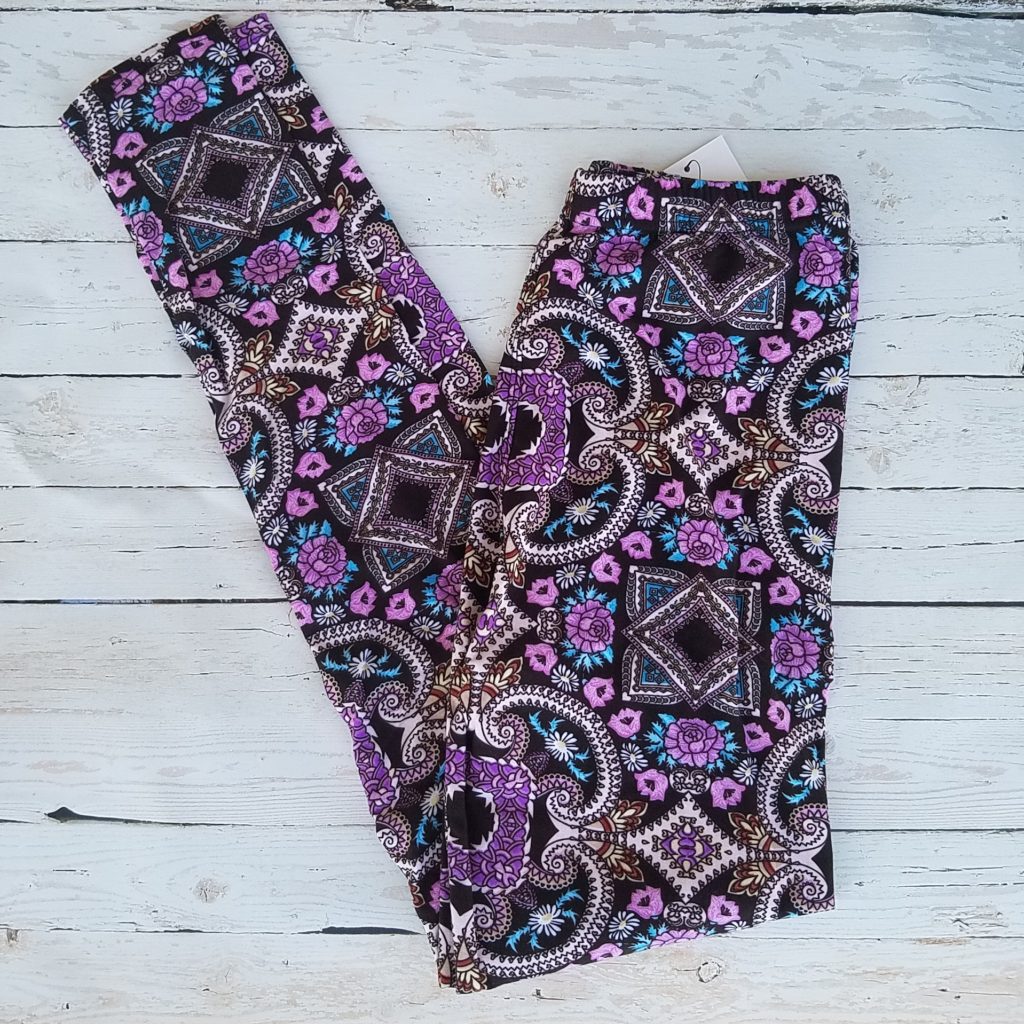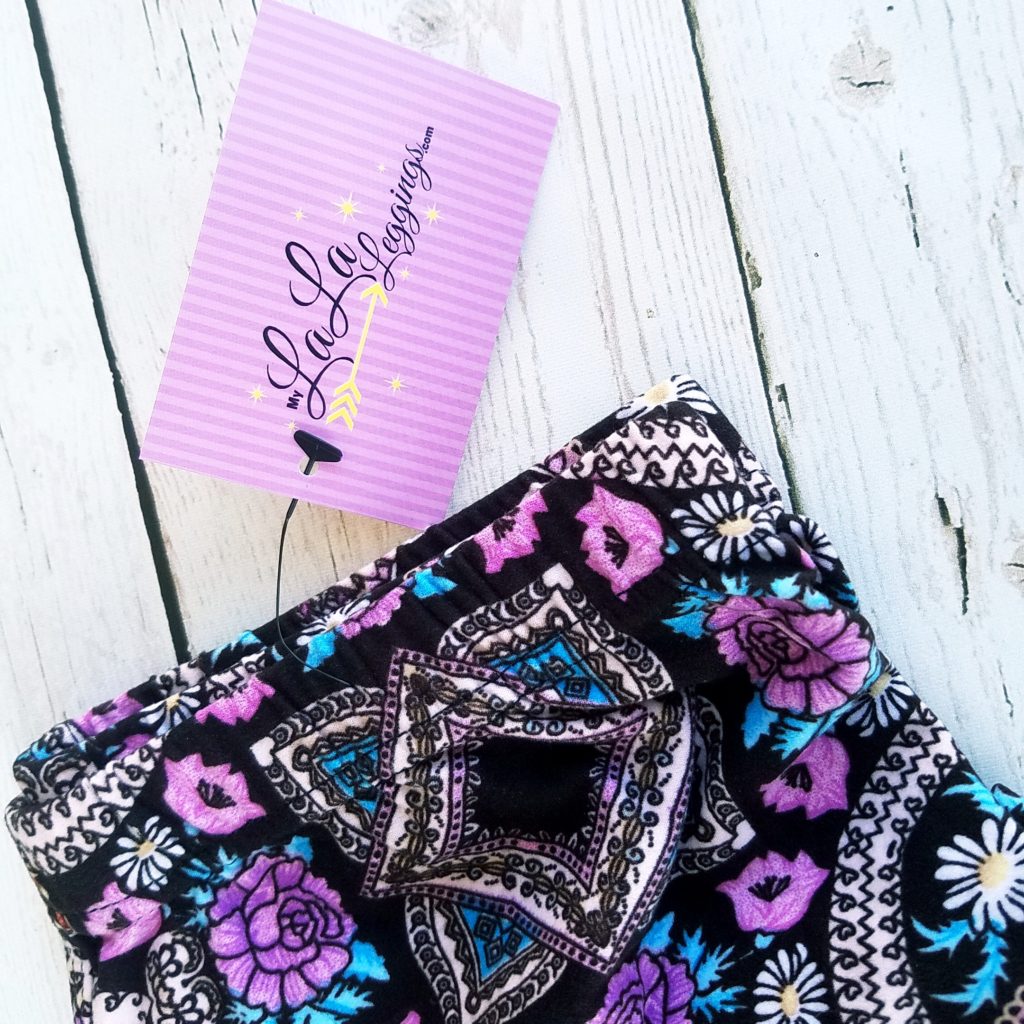 I couldn't wait to get them on! The awesome thing about leggings is that you can dress them up, or you can dress them down! I prefer to wear tunic size shirts and tank tops (that cover my butt. I'm not a fan of un-covered booty in leggings) and rock them out. They are the perfect pair! Then, accessorize with cute jewelry and boots or sandals (depending on the time of year) and you're good to go!
Some people might be of the opinion that it's too hot to wear leggings in the summer, but I disagree. I was completely comfortable wearing my leggings in the heat, but where I live the humidity is not so bad, so, that might make a difference.
Here's the first outfit I wore with the PurpleRain ones:
Like I said, I just add a tunic and then go! This blue one I grabbed at Old Navy, on sale for only $6 (marked down from $16). The necklace is from Rocksbox (get your first month free with code LESLIEWBFF16).
Here's the 2nd outfit that I wore with the Diamond Blitz: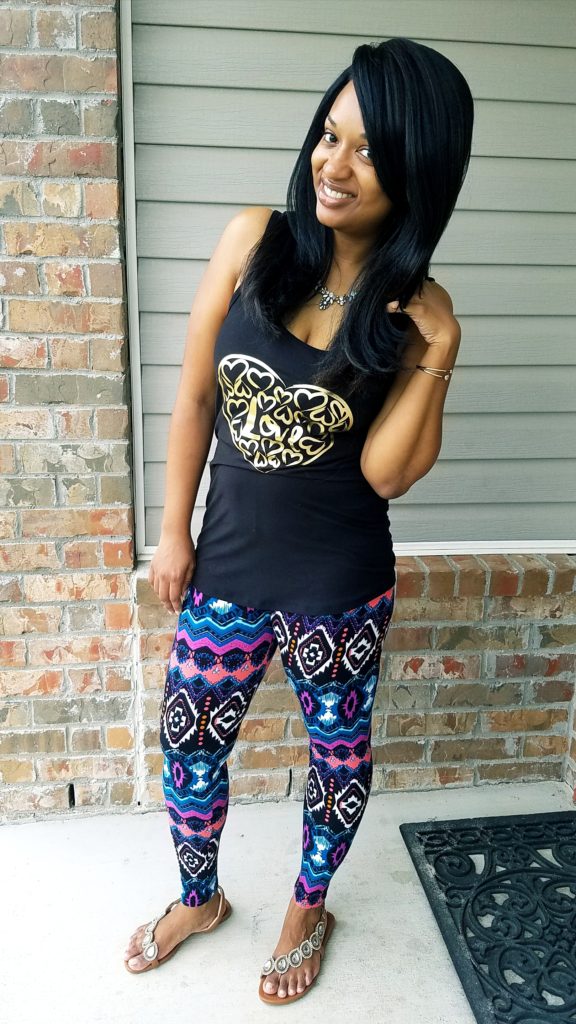 This black top with gold foil was from the Juniors section at Walmart and was $3.88. Necklace and bracelets, again, from Rocksbox and shoes from fibi & clo (click for more info on the jewelry & shoes!).
Seriously, these things are cute and comfy! Click here to shop My LaLa Leggings now!
Joining My LaLa Leggings
To join as an affiliate, there are several membership options to get you started:
$10 – Affiliate membership only
$18.99 – Affiliate + one pair of leggings
$27.99 – Affiliate + two pair of leggings
$109.99 – Affiliate + 10 pair of leggings
As an affiliate, you get:
A personal affiliate link you can use to refer sales and other potential affiliates to
a 25% discount off of any items you personally purchase
a 25% commission off of any items purchased through your affiliate link
up to 40% bulk purchase discount
If you refer others to join as an affiliate, you get $5 for each person you sign up
You also get 5% commision on any of your 1st line team sales
So whether you want to sign up just for the personal discount, or you are looking to make a little side income, joining My LaLa Leggings is the way to go!
Either way you slice it, I was happy with my My LaLa Leggings purchase. I'm of the opinion that the leggings are GOOD QUALITY material, are versatile, and are unique and beautiful in their style and presentation. I'm thinking you can't go wrong with a pair (or ten!!).
To shop My LaLa Leggings click here.
To join My LaLa Leggings as an affiliate click here.
I also have a board on Pinterest with lots of great printed legging outfit ideas. Click here to follow my board!

To Your Success,