This post may contain affiliate links. Read the full disclosure here.
How To Craft A Good Call To Action At The End Of Your Post
If there's one thing I see a lot of bloggers do wrong, it's not giving their readers anything to do at the end of the blog post!!
Put yourself in the shoes of your readers. You get to the end of a great article, and there's no call to action. What do you do? You're not even thinking about it. You go back to Facebook or go watch some cat videos on YouTube.
Take a moment to connect further with those who took the time to get to the end of your post! Give your readers something more. What if they wouldn't mind learning more from you or connecting with you via email or social media or even take you up on a product recommendation?
That's what a call to action at the end of your blog posts is all about.
Call To Action Ideas For Your Blog Posts
So, now that you know why a call to action is important, what are some good call to action ideas for your posts? You know you need one, but you aren't quite sure what to do.
Well, take a moment to check out these examples.
#1: Encourage Them To Comment And Interact With You
One of the easiest ways to craft a call to action is to ask your readers to leave you a comment.
Invite them to share their own experiences on the topic, a tip, a recipe etc. In other words, ask them to comment on the post.
Example: What are your favorite ways to end your blog posts? Do you use a particular call to action? Leave me a comment below and let's talk.
#2: Invite Them To Connect Further Via Social Media
If growing your social media reach is a goal, consider adding some calls to action to share your post on Facebook or Twitter, pin it on Pinterest etc. Or share one of your social media profiles in the call to action and invite them to join you there. This works well for your Facebook business page or VIP Customer Group.
Example: Got questions about crafting calls to action? Let's talk about it on my Facebook page. (Link to your Facebook page).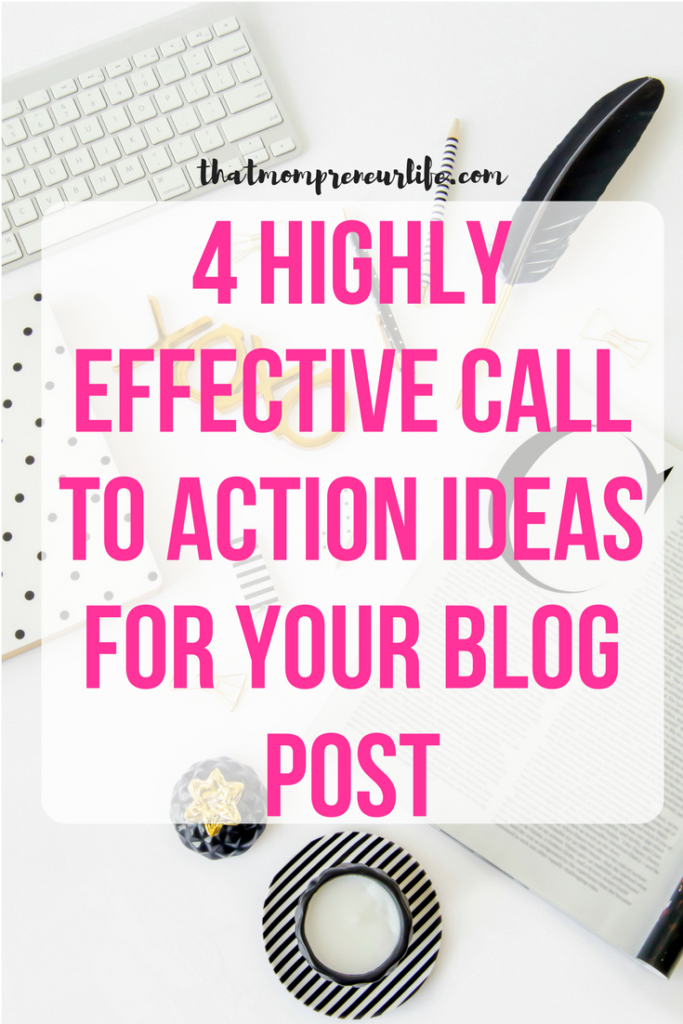 #3: Make A Recommendation
Sometimes it makes sense to make a sale and monetize your blog post in your call to action. This is also called pre-selling. You talk about a topic and then at the end make a recommendation for a product that helps your readers learn more or take the next step.
This is especially important if you have talked about how your direct sales products meet a particular need or help a problem in your post. Now, just steer them to your shopping page so they can check out what you were talking about.
Example: There's a lot more to be said about crafting a strong call to action. Take a look at this guide to learn more. (link).
#4: Invite Them To Join Your List
Often the best thing you can do at the end of your blog posts is to invite readers to join your list. Once you have them on your email list, you can invite them to come back and read other posts, comment on them, join you on your favorite social media platforms and of course make offers to your readers.
Getting them on your list should always be your first priority, so use that call to action often.
Example: I have a lot more to share on the topic of blogging and would love to email you with more tips and strategies on a regular basis. Just enter your name and email below and we'll get started right away. As a thank you, I'll even send you my guide to writing strong blog post titles that will grab your readers' attention.
With these simple ideas, you will never leave the end of a blog post empty again!
If you liked this post, go ahead and grab a copy of my free Blog 101 checklist in the box down below! Yup, scroll just a bit and you'll see it!
To Your Success,