This post may contain affiliate links. Read the full disclosure here.
I no longer submit any pictures or stand by Submit Pics For Cash. They stopped having gigs that I felt were appropriate, and stopped paying me. All in all, I enjoyed it when it paid, but it got shady. This post here is for entertainment purposes and your own decision making. Thanks!
I'm so excited to share with you my experience (so far) with Submit Pics For Cash. I'm sure you're here because you have heard about Submit Pics For Cash, and wanted to know if it was a scam. Well, I'm here to tell you, IT'S NOT! Submit Pics For Cash is LEGIT! I just got my first payment today.
There are many tips and tricks I want to share with you in this review about joining and getting the most money out of Submit Pics For Cash. There are certain rules that apply. So keep on reading!
What Is Submit Pics For Cash?
This is a site that pays you MONEY for your selfies. Yes. The selfies that you are taking every day and texting, snapchatting and posting to Instagram, could be making you cash. Holla!!
This is for girls as well as guys and you can keep the pictures as squeaky clean as you wanna. In other words, this is not a site which pays you for THOSE kind of selfies…the naughty kind. Nope. Just regular old selfies will do here, although there are rules posted on the site as to what they will take. Unless you WANT to submit those, and um, I'm sure they might accept them…dunno really.
Basically, no blurry or unfocused images. No pics of ANYONE ELSE other than YOU. Be mindful of the background/surroundings. And, be creative.
This is a company that sells the photos that they buy from you to other stock photo companies. So, who knows WHERE your image will ultimately end up — you have no control over that. If that doesn't bother you, then awesome.
You don't need a fancy camera, your phone will do fine.
Ready?
How I Discovered Submit Pics For Cash
I was scrolling through my Facebook timeline one day a couple weeks ago, when a post from a group I'm in caught my eye.
It was one of those "advertise your business free-for-all" groups that you never know what you're gonna get, so I read the post, scrolled away not thinking too much of it and for some reason, stopped dead in my tracks and scrolled back.
The poster said she had earned over $70 posting selfies that were already in her phone. Money…For selfies!?!?!?
I was intrigued.
I found the site and for some reason took the plunge and signed up. Let me walk you through the steps.
How To Sign Up For Submit Pics For Cash
To join, click here to go to the site and hit the "sign up" button in the top corner.
Create a username, password and all that jazz. You will have to do a couple things here though…
Enter in your social security number — They are paying you, so they will need this info for tax purposes.
Sign a release form — This is standard in photography/film circles basically giving them permission to use and sell your image.
You must prove that you are 18 years old or more – Therefore, you need to upload one photo of your government ID and one photo of you holding your government ID next to your face.
Once all of those things are done, you will be kicked to your profile page, but you WILL NOT be able to start uploading any photos UNTIL they email you that you have been accepted.
Apparently, someone has to go through your account application and review the stuff you uploaded and make sure it all is on the up and up. I was approved the same day, maybe in about half an hour.
Once you are approved, you can start uploading your selfies.
My Experience
On 8/11/15, I joined, was approved and uploaded 14 selfies, just to test the waters. About an hour or two later, I logged back in and saw that all 14 of those pics had been approved – pretty quick! (They do not email you when your photos are approved, you just have to keep checking). I had been approved for $1.00 per photo.
Excited, I uploaded 36 more around 8pm that evening, for a total of 50 pics.
Now, here's where it gets a bit muddy…
Even though my first batch of photos were approved lickety split, it took 7 days for them to approve the second batch I uploaded. Yes.
I spent the week logging in and out, in and out and fuming, thinking this was just a scam, when all of a sudden, I logged in 8/18/15 and there they were, all of them approved!
Huh? What took so darn long?
Well, it appears that this is standard when dealing with Submit Pics For Cash, so the moral of the story with them is…
BE PATIENT!!!!!
Patience Is A Virtue
On 8/19/15, I emailed customer support asking when I would get paid and why it took a week for my pics to be approved. I still wasn't too sure whether this was a scam or not, and I was wondering why I hadn't gotten paid for my initial 14 photos yet.
On 8/20/15, a day later, I received this reply —
Hi Leslie,

Thank you for your interest!

Hi,

Our staff is constantly reviewing and approving pics on a daily basis. We receive hundreds of pics for approval everyday and sometimes there are delays in the approval process. Although we do not accept all pics we encourage you to upload as many as you would like FOR APPROVAL. Once a pic is APPROVED and only once they are approved can you receive payment for that pic.

We always pay once a week (usually on Friday) for the previous week it takes a day or two to show in your account. So any money you earned last week will get paid this week. Banks do not allow us to send less than $20, so you must have at least 20 newly approved photos in a given week in order to be issued a payment. This applies for each new week.

Payments will go out as soon as you have earned $20 or more.

Please allow 3-5 business days from the day payments go out for the payment to process and reflect in your account. Some methods of payment like check or bank transfer take longer than others please allow extra time. If you are expecting a payment, do not change your payment method as this may cause delays.

The "payment info" page will show how much you have earned and how much money you are owed for the current pay period. Once you have been paid you will see your payment history below that.

If you have any other questions please let us know and we will get back to you ASAP.

Thanks,

Team SPFC
Ohhhhh. So I hadn't been paid the $14 because I hadn't accrued $20 yet. And now that I had, I realized that, per the email, I would be getting paid not that week, but now the NEXT WEEK.
Groan.
So, I went through my phone and uploaded all the pics I could to get me to a total of 197 pics (I know, I know, not that many, but I'm working on it). I did this between 8/20-8/25.
On 8/26, I got 7 more accepted, quite a few rejected, and still about 80 or 90 were still pending.
??????
All this time, I was on PINS AND NEEDLES, feverishly checking my email for notification of that Paypal payment!
Until…
I'm Paid!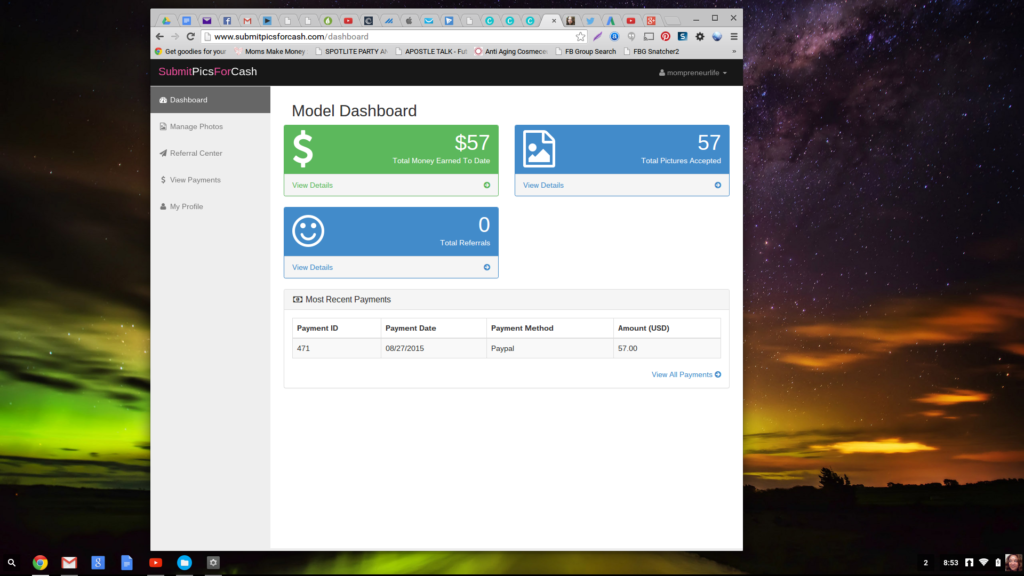 On 8/27/15, I FINALLY received Paypal notification of a payment of $57! This was on a Thursday, and I have seen that other people on Instagram have been paid on Tuesdays and Fridays before. So basically…
When they approve photos is random, and when they pay is random, but you can be sure that they will do both around once a week. What day of the week isn't really for sure. And they will pay you one week AFTER they have approved your photos. Overall patience is key. A watched pot doesn't boil.
But, YOU'RE GETTING PAID MONEY FOR SELFIES!!! 'Nuff said.
And, don't count on every one of your photos being accepted. Just saying. Learned from experience.
Here are some of the photos that they DID accept, to show you how dead simple this is:

You can also get paid by telling all of your friends about how you get paid for selfies too by referring them!
So, what are you waiting for? Start your account, follow these simple steps, (be patient) and GET PAID. Start your Submit Pics For Cash account now!