This post may contain affiliate links. Read the full disclosure here.
Fibi And Clo Prices
You're here because you may have heard of the amazingly-cute, sparkly and sassy shoe company Fibi & Clo. You've seen the shoes…you've fallen in love…and you're wondering, JUST HOW MUCH DO THEY COST? Stuck on Fibi and Clo prices? Read on!
Well, I'm Leslie Walters, independent Fibi & Clo fashion agent #9185104789. Fibi & Clo just relaunched in March 2017 after an 18 month hiatus, and I decided to join them because 1) It's 100% free to join and 2) You've seen the shoes right…NEED I SAY MORE?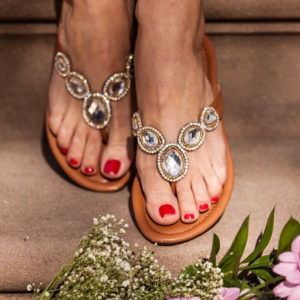 That said, if you are looking for a cheap or cheaply made shoe, you will not find that here. Fibi and Clo prices tend to run at this time between $60 and $85. However, did I mention these are VERY premium, designer-looking shoes? They are certainly something that you would expect to find on a Nordstrom or Bloomingdales shelf – yet here they are, available to anyone outside of stuffy department stores.
Take a look at the stunning Spring 2017 catalog of sandals and find your favorite pair. You will see the prices listed by each sandal. Try not to drool too much! 😉
Want An Immediate Discount?
Are Fibi and Clo prices a bit high for you? Independent Fashion Agents are able to buy Fibi & Clo shoes for themselves starting at a 15% discount.
Yes!
All you would need to do is enroll as a Fashion Agent. It is 100% free to do so, and in order to remain active, you would have to sell AT LEAST ONE PAIR OF SHOES EVERY 3 MONTHS! So, sell a pair to your mom once every three months, and you can continue to get Fibi & Clo at a discount. No further quotas or autoships at all.
Easy, peasy!
Join as an Independent Fashion Agent or shop the Fibi & Clo catalog now!
Want To Earn Free Shoes?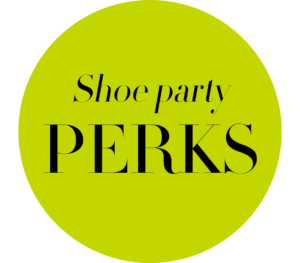 Another way to get discounted or free shoes with Fibi & Clo is to have a shoe party! But, don't worry, you won't have to clean your house or buy hor d'oeuvres. It can be done stress and worry free, all on Facebook!
Host a Facebook party today and get free hostess rewards! Party in your yoga pants…it doesn't matter!
To contact me to host your Facebook party, fill out this quick and easy form and I will get in contact with you!
XOXO
Leslie